Deb Haaland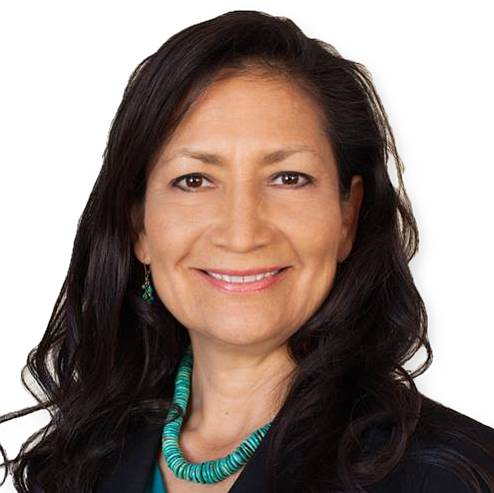 U.S. REPRESENTATIVE DEB HAALAND
D-NEW MEXICO DISTRICT 1
RACE SUMMARY: Won the seat of Rep. Michelle Lujan Grisham, who is running for New Mexico Governor, leaving the seat vacant.
VOTING RECORD: Govtrack.us, Project Vote Smart 
BIOGRAPHY
POLITICAL CAREER

PARTY: Democrat

EDUCATION: University of New Mexico (BA, JD)

OCCUPATION: Politician

FAMILY: 1 child

Career:

Candidate for U.S. House of Representatives 
2015-2017: Democratic Party of New Mexico, Chairwoman
2012: Candidate for Lieutenant Governor of New Mexico

Committees:

Committee on Armed Services 
Committee on Natural Resources 

Elected: 2018

 
ISRAEL
---
Supports a two-state solution 

Supports the JCPOA (Iran Nuclear Deal)

Supports foreign aid to Israel to maintain its defense and security

Vows to fight anti-semitism
CHOICE
---
Supports Roe v. Wade

Supports Planned Parenthood

Fights for the equal access to contraceptives for women of color

As a single mother, understands the importance of family planning resources
In Her Own Words
---
""We can't afford to compromise on anything we have fought for -- abortion is legal in our country and I will do everything in my power to stand up for the rights of women and all people to choose wen and how they build a family." 1
"I would welcome the opportunity to visit Israel to see first-hand this vibrant, thriving country that survived decades of injustice and oppression to build a free and democratic society that serves as the true home of the Jewish people." 2
SOURCES: 1) www.medium.com  2) 2018 Position Papers
Interesting Facts
---
Her mother is a veteran of the U.S. Navy and her father was a veteran of the U.S. Marine Corps and is buried with full military honors in Arlington National Cemetary.
She is of the Laguna Pueblo people, and would be the first Native American Woman elected to Congress.
She has a J.D. in Indian Law and was the tribal administrator for the San Felipe Pueblo tribe.