Support Tim Ryan for Senate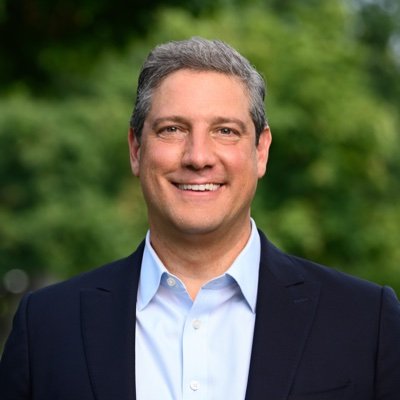 U.S. REPRESENTATIVE TIM RYAN
CANDIDATE FOR U.S. SENATE
RACE SUMMARY:  Rep. Tim Ryan has represented Ohio in the House since in 2003. He is running for the open seat of retiring GOP Sen. Rob Portman in what looks to be a highly competitive race.
VOTING RECORD: Project Vote Smart, GovTrack.us
BIOGRAPHY
POLITICAL CAREER

PARTY: Democrat

BORN: 7/16/1973

EDUCATION: University of New Hampshire School of Law, JD; Bowling Green State University, BS

OCCUPATION: Politician, Author

FAMILY: Married, 3 children

RELIGION: Catholic

CAREER:

U.S. House of Representatives (OH-13), 2013-Present
U.S. House of Representatives (OH-17) 2003-2013
Senator, Ohio State Senate, 2000-2002

COMMITTEES:

Committee on Appropriations
Committee on the Library
Subcommittee on Defense

           ELECTED: 2002
ISRAEL
---
Supports Israel's right to self-defense.
Supports a two-state solution.
Supported the JCPOA (Iran Nuclear Deal).
Opposes BDS (Boycott, Divestment, & Sanctions) of Israel.
CHOICE
---
Cosponsored and voted for Women's Health Protection Act, which would codify the protections of Roe v Wade into federal law.
Endorsed by NARAL Pro-Choice America.
Voted to end the Hyde Amendment which bans federal funds from use in abortion care.
Cosponsored the Equal Access to Abortion Coverage in Health Insurance (EACH) Act.
In Her Own Words
---
"Israel has the right to defend itself and take the necessary steps to stop the [missile] attacks." 1
"In the Senate, I'll keep working to codify Roe and to make sure every judge we put on the bench is committed to protecting this essential right." 2
Sources: 1) Twitter 2) NARAL ProChoice America
Interesting Facts
---
Author of "A Mindful Nation: How a Simple Practice Can Help Us Reduce Stress, Improve Performance, and Recapture the American Spirit."
Worked as a Congressional Aide in 1995 for Rep. Jim Traficant.